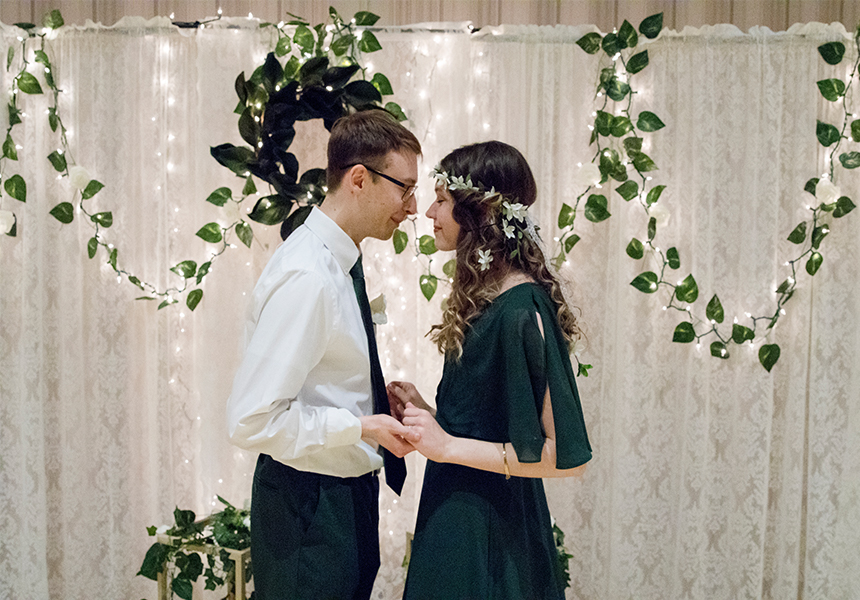 Laila and Shawn got married on 5th of March 2022.
1.How did you meet?
Shawn and I met on a dating app, which I know is super typical of COVID times and our generation, I know, but it really can work!
2.What was your favorite moment of the wedding day?
My favorite moment of our wedding day was the actual ceremony. But within the ceremony, I loved the vow that my husband wrote and then read to me. It was beautiful and brought me to tears.
3.Why JJ's House?
I chose JJ's House because of the quality and price. Also, their designs are so pretty!
I spent a lot of time considering all my options, at JJ's House and other places, but ultimately, I chose the dress #251602 in hunter green. I loved it! It fit the style of the wedding and my personal style perfectly! I felt so good in my dress. I never wanted to have a super fancy ball gown or bedazzled dress to get married in. It's just not my style. And I never wanted to get married in white. So, this was perfect for me.
4.Three words to sum up your wedding day?
Romantic, Beautiful, and Gratitude.
5.What's your advice for wedding plans for other couples?
One tip I would love to share with other bride-to-be's is to not be afraid to break rules and break tradition. Family and friends will probably try to influence your decisions for your wedding, but remember, it's YOUR wedding. Don't let people tell you what to do! You can kindly and politely remind people that you appreciate the help and support, but that you have a different way you will be doing things. Also, don't forget, this is about a union between you and your fiancé. Don't get so stressed that you can't enjoy the beginning of your life together.
Please follow and like us: