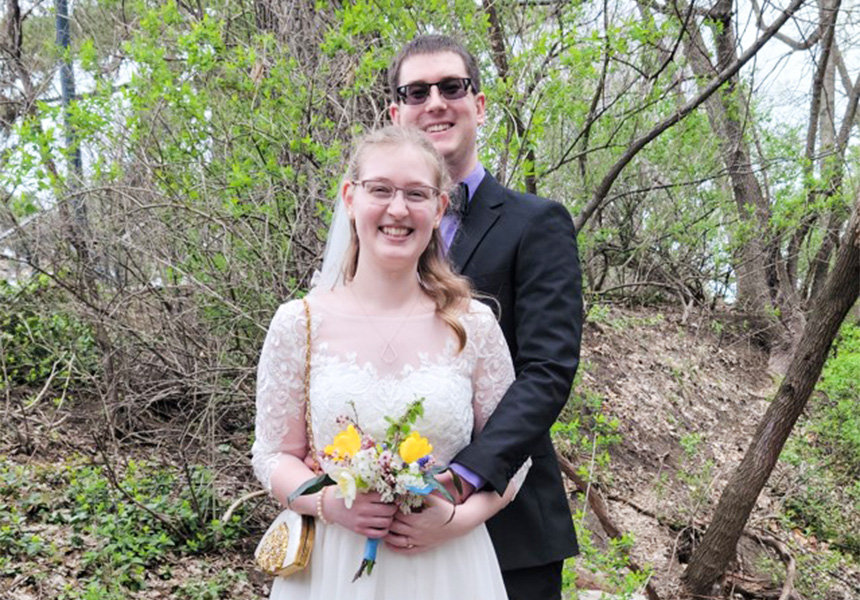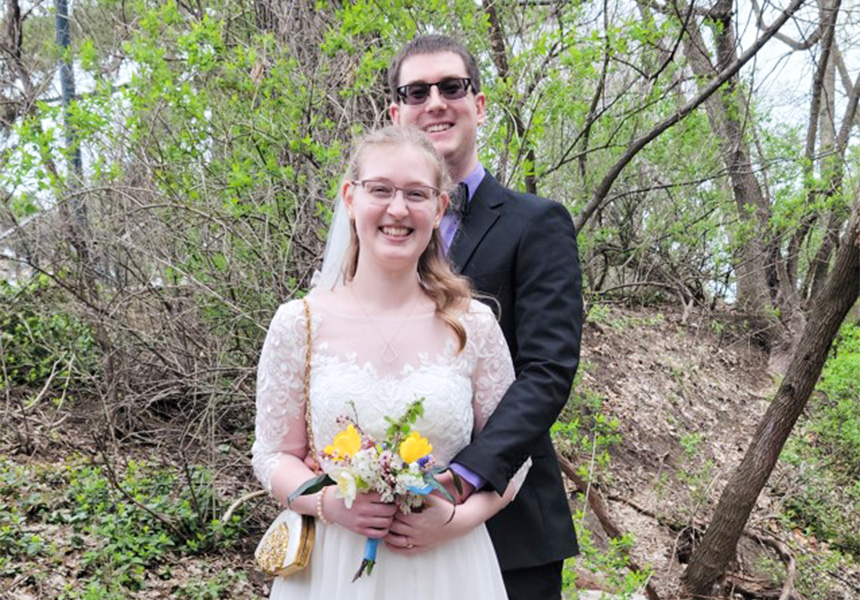 Kelly Geschwender and  Alan Greunke got married  on April 10th 2021, then they became Alan and Kelly Geschwender- he took her last name.
1.How did you meet?
We met at Saddlebrook Library where we both worked. I worked there every summer and after graduating from college I came back to work before starting teaching in the fall and when my key card didn't work he opened the door for me! It only took a month and then we began dating!
2.Special love song?
This one is funny, because we actually started texting because of a post he had made on Facebook about a Dungeons and Dragons Monster someone had created based on the Song Actual Cannibal Shia LaBeouf. I saw that and commented and we began chatting about our D&D groups. So our song became the Actual Cannibal Shia LaBeouf song and that was the song we danced to at our wedding.
3.Wedding ceremony spot?
Alan had always wanted to get married in nature, so I thought early spring would be lovely just as things were coming into bloom. We had Just gotten engaged a few months earlier on January 8th, but as soon as we thought we wanted it in early spring we started planning. We ended up getting married at a local park, Elmwood park, in a place called the Grotto. There is a tunnel that leads to a little stream and a bridge and some trees, and it was just beautiful!
4.Wedding look?
I wear dresses every day, but I also keep things really simple, I don't wear makeup and I don't use a lot of products in my hair. I wanted to feel like myself at my wedding, so I wanted a dress in the style I felt most comfortable. My Mom actually found my dress on JJ' s House, and it looked perfect. I got that and then the only other things I knew I wanted was something old, something new, something borrowed, and something blue. I got the something old from my mom, it was a pair of pearl earrings that belonged to my Dad's grandma. My something borrowed was a pearl bracelet that my great aunt gave to my sister, and my something new was a mother of pearl fan shaped purse that my mother-in-law got for me for the wedding. My something blue was a blue jeweled hair clip that I wore, as well as the blue ribbon tying my bouquet together. That was all I needed, I grew up playing a board game at my grandma's called the bride game, I realized that everything that I had in my wedding was all that you needed in the game, and I actually think that is really nice. I couldn't be more happy with the outcome.
5.Favorite moment of the wedding day?
On the day of the wedding  in the morning we went out to pick my wedding bouquet from flowers in my mother's garden and that were just around our neighborhood. No one except those involved in the wedding knew when it would be and they only found out a day or so before, so I asked my mom if it would be ok for me to sneak some flowers out of her garden because I didn't want her to know before anyone else because we weren't involving our families in the ceremony. She said it was ok, but I wanted to make sure we got them at a time she wouldn't notice. I created my bouquet and a mini bouquet to throw. After that we got ready. I had always wanted the signing of the marriage license to be a special part of the wedding day, and it actually turned out great because our friend is a notary, so after we were all dressed and ready to go we stopped at his house to have him notarize our document, and then we went to the park. One of our friends was our officiant, and the other two were our witnesses. And that was everyone in attendance, so everyone who signed our license was a friend! My favorite part was that everything worked out just as planned or better. We had thought we might stop and get cupcakes or something as a cake, but actually my friend had her mom make us a beautiful heart shaped cake. It was the most delicious! She even brought utensils, and wedding mints, and so we even got a cutting the cake moment that I hadn't planned for and wasn't expecting, but it made the day so complete to have. Even the fact that my husband's ring hadn't come yet ended up being cute, because I married him with a piece of yarn tied into a bow! When we got home his ring was there, and I just couldn't have planned that any better!
6.How did Covid-19 affect your wedding plan?
I had always wanted a very small wedding because my parents had eloped and got married just the two of them in Colorado. So I really had always wanted the bare minimum in terms of guests. Covid made that an even easier decision, because at the time the vaccine was only just rolling out. Alan and I had both been able to get it as educators, So that made us feel safe enough to have the 3 people we needed in attendance for our ceremony.
7.Your advice for wedding plan for other couples?
I would tell anyone to have the wedding they want. For me that was a special day that was in the end very inexpensive, and with a few close friends, because that's what the ceremony called for. We love our families so much and the thought of not including them was difficult, but ultimately, the wedding is about our commitment to each other and about growing our future together, so we wanted to focus on that and not have the chaos of trying to plan, coordinate and execute a celebration that wouldn't have been as meaningful to us. So if you are a couple that wants a big wedding and you can afford it, go for it, and if you'd rather do it small, don't feel guilty, and don't let anyone else make you feel guilty. It's one day. It's a commitment to your partner, you can see your family and celebrate with them any other day.
Please follow and like us: