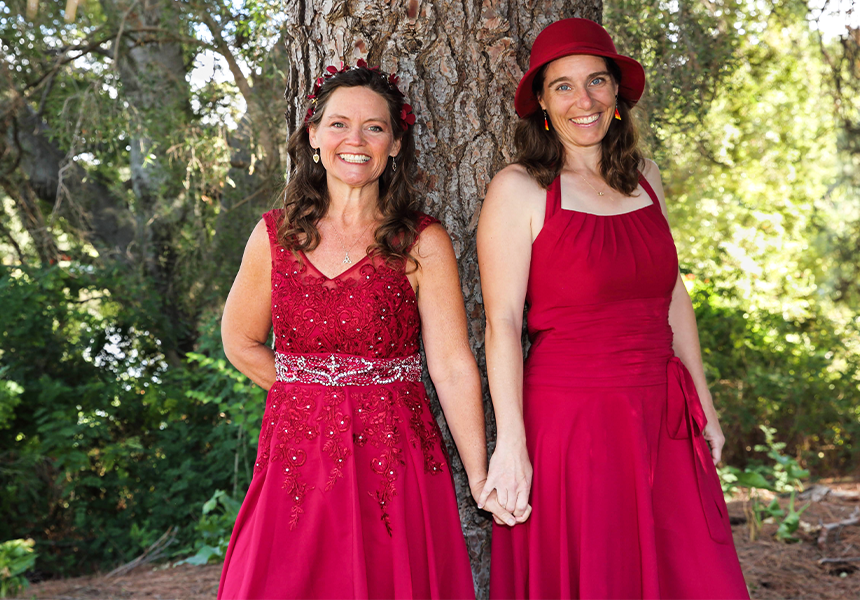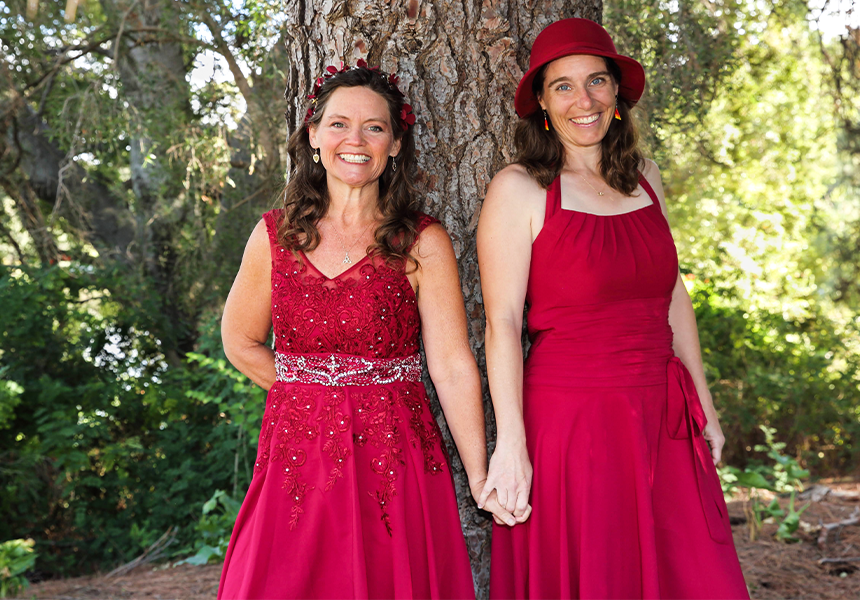 Two brides, Isabelle and Tracia were thrilled to be married wearing JJ's House burgundy dresses for their wedding on October 17, 2021.
1. Why this dress? Why JJS?
Because our daughters would also be standing beside us for the ceremony, we elected for everyone to wear the same color, in a style that suited them best. We chose JJ's House because of the variety of cuts and colors, because it was important to us that everyone felt beautiful and special. So we scoured the JJ's House website until we found exactly what we were looking for, ending up with an amazing combination of flower girl, prom, bridesmaid, and cocktail dresses that were all amazingly perfect and surprisingly reasonably priced!
The look was stunning against the green of our outdoor landscape and colorful vineyards! Even though we all wore the same color, us brides still stood out nicely, as my dress had added sparkle and my bride donned a JJ's House burgundy hat. Plus my son also wore a matching JJHouse burgundy silk tie so he coordinated with the dresses perfectly. Our guests showered us all with compliments, of not only how gorgeous this unified effect was, but how well this illustrated the bonds of our new blended family unit.
2. The favorite moment of that day
It is hard to narrow down this spectacular day to just a single favorite event, but I think perhaps it was when we all hid in our pop-up tent before the ceremony, watching all of our guests start a processional through the vineyard; we could peek out at them waving their streamers as they strolled, knowing we would soon sneak out and join the back of the parade. Our special day was under way and we were all so excited we were ready to burst!
The most emotional moment of the wedding for me was when my choir members sang a choral piece for us with so much love and emotion (I am a choir director and met my wife in my choir). I never would have expected that we would instinctively clump together in an embrace as they sang, my two children singing as part of the choir. I was overcome with emotion and burst into (the best kind of) tears, and my bride comforted me with such wonderful tenderness. I felt loved for being who I was. It was a priceless moment.
3.  Music, Community, Love
The three words that would sum up our wedding were actually all featured on our invitation: Music, Community, Love. It is making me teary writing that but it is exactly what it was. These three aspects linked us as a new family, linked us with our guests, and even linked our guests with each other. So many people told us afterwards it was the most special wedding they ever attended. I actually think our coordinated-but-individual dresses were a symbol of that unity.
4.  Tips for other brides
My advice for upcoming brides is to savor the moment, and enjoy all the little things, both the ones that transpire just as you dreamed them to, and those that totally went different than you planned! Be in the moment, because these moments of a special day like this you will be able to cherish for years to come. 🙂
Please follow and like us: