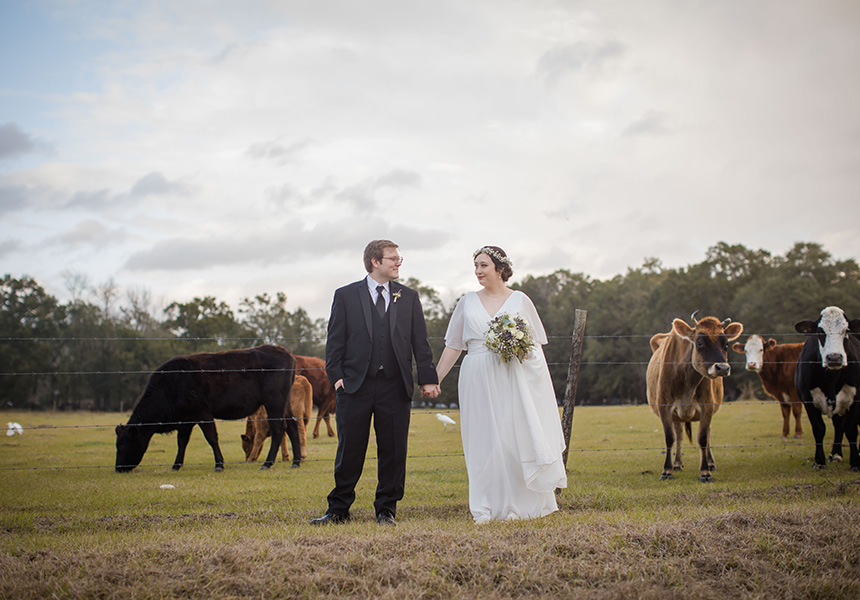 Emily and  Kyle got married on a farm in North Central Florida of January 16th 2022.
1.How did you meet?
We met on a popular blogging site.
2.Special Love song?
"Just Like Heaven" by The Cure.
3.The wedding look?
If I had to describe my wedding look, it would be ethereal woodland princess. I wanted to match the rustic venue. My gown was made of flowing chiffon and silk, and instead of a veil I had a baby's breath crown.
4.Favorite moment of the wedding day?
While we were taking portraits in the field, a rainbow appeared.
5.How did Covid-19 affect your wedding plan?
Because of Covid-19 we decided to have our wedding venue be completely outdoors. We also wore N95 masks at the reception.
6.Your advice for wedding plan for other couples?
Do not go on your honeymoon immediately after the wedding. Give yourselves a couple of days to decompress (and eat your leftovers).
7. The link  to the page of the photographer?
Please follow and like us: