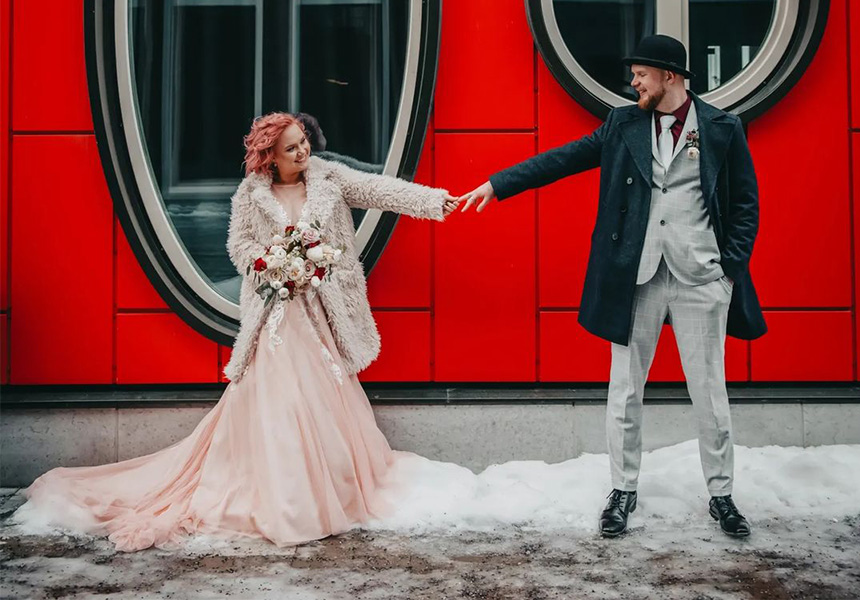 Birgit and  Silver got married on 12th February 2022.
1.How did you meet?
We met 11 years ago at a party and are so-called high school sweethearts. We were already living together and having a married life but he popped the question so unexpectedly on a very rainy November evening on a side of a highway when he scared me out of the car saying something is wrong. Then he was behind me, on one knee and there was the ring!! I was very surprised and almost angry that he decided to do it like that- dirty, rainy, and almost midnight in the middle of nowhere- but that is how we are- unpredictable and weird 🙂 .
2.Special Love song?
We do! I asked a good friend of ours to play it on the guitar when I walked down the aisle!
3.Wedding ceremony?
I was very passionate about having a quirky venue and nothing traditional so we went with a very hipster old factory building that was renovated for events. All the plumbing was showing, broken tiles on the walls and very industrial all the way! It is also close to harbor and has a great bohemian hipster atmosphere and I loved the alternative approach. The venue is called Cultural Kettle (Kultuurikatel) in Tallinn.
4.The wedding look?
I knew I wanted a princess dress and it had to be pink. Everything else kind of had to become around it. As I have short hair, my make-up artist made some wavy curls to give some volume. I only had simple silver earrings as my dress was the star and I didn't want to over do it. My make-up was quite natural and airy, very earthy colors. And the dress was a big princess dress with a big skirt and beautiful white pattern running around the dress. Such a princess moment!
5.Favorite moment of the wedding day?
Getting married… I know right! But just saying my vows and kissing my husband is the highlight of my life! And of course his face when I walked down the aisle with the beautiful dress. I will always treasure these moments!
6.How did Covid-19 affect your wedding plan?
Well, we hoped we wouldn't have any restrictions but unfortunately we did. Everyone had to be vaccinated, which wasn't a problem luckily and the party had to end at 11PM due to the restrictions which was a bit of a bummer. We planned to have a small wedding anyway so we weren't worried about that but the 50 guest limit was in place as well.
7.Your advice for wedding plan for other couples?
Hire a wedding planner. PERIOD. Saved me so much stress.
Have a bridesmaid and/or Best Man to help you during the event – also, saved me a lot of stress.
Have sneakers with you – if you are not a high heels girl like me then change your shoes in the middle of the event. This has saved my feet multiple times. Or wear flats if possible. As a short girl in a big dress, heels were a must for me but I changed it when we started dancing and I loved having my Nike comfortable running shoes on!
Also, if you have a big princess dress like me – have a backup dress to change into in the after hours 🙂
8. The link to the page of the photographer.
Please follow and like us: