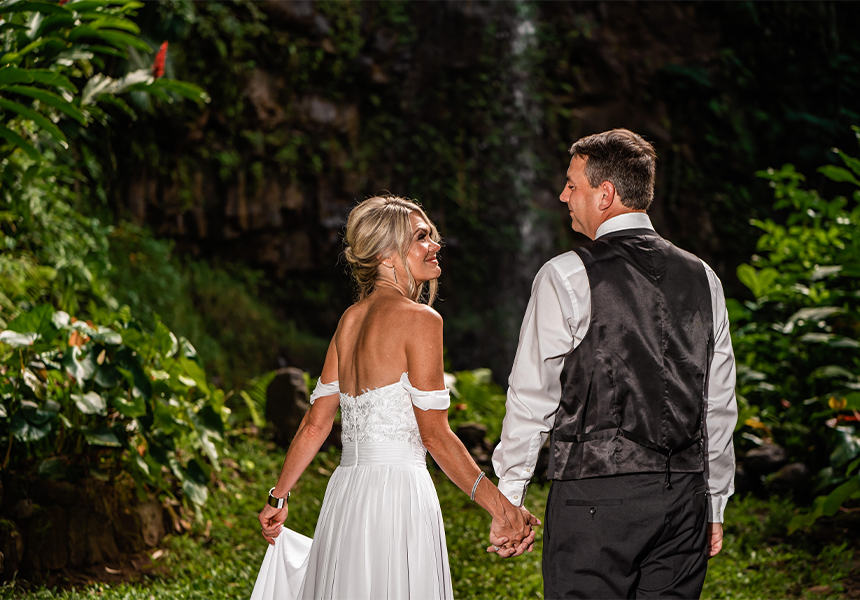 Adam and Kim got married on October  24th, 2021.
1. How did you meet?
Adam is a golf pro and I met him when I sought out private golf lessons . He's an AMAZING instructor!
2. Where did you hold the wedding ceremony?
We got married on the island of Kauai at North Shore Falls.  It was enchanting. We had no guests, just the planner, photographer, videographer, and the minister.
3. The wedding look and the favorite moment?
I chose an off the shoulder dress in white with my hair half up and half down. The favorite moment of the wedding day was our first dance as husband and wife on our private lanai, at our Air B&B, at the end of the day.
4.  Did Covid-19 affect your wedding plan? 
We didn't know up until about a week before our wedding if we were going to have to reschedule or not due to Covid. I made daily charts for about two months watching the trend of Covid cases on the island.
5.  What's your advice for wedding plan for other couples? 
We chose simple and it was beyond anything we could have imagined. We used Kauai Elopements (Jessica and Hailey are amazing) and through them found Sandy Swift photography.
Please follow and like us: